Introduction
When you think of crafting, try to think of this:
No not Bob Barker... despite how much of a pimp he is.... Plinko!!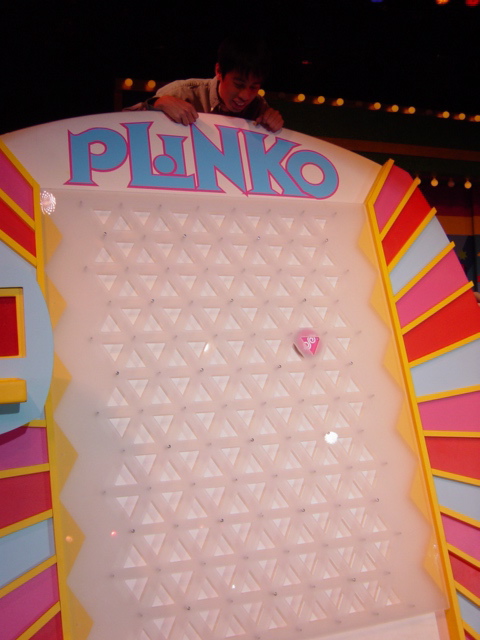 You're the nervous looking Asian dude, the round disc thingy (its really a Plinko chip) is your synth, and the board itself with its annoying little prongs is the random environment. You get to drop that synth wherever you want to and the environment does the rest. If that sounds too easy its because it is. This is just a gross oversimplification of the factors at play.
To get a better grasp of how the system works, imagine that instead of the same, flat, boring Plinko board, you're at the center of a Plinko board that consists of several wheels of different sizes, rotating around you at varying speeds. I like to think of it as a sort of Indiana Jones style death trap thingy. In this analogy, you, the crafter, are Indy. You can either win:
or you can lose...
Lose too often and you'll end up like this, waiting for your one-handed, incestuous space-wizard pal to save you from an obese slug-man after you've been imprisoned in frozen carbonite
TM
(ie. You gonna be broke sucka):
(Yes... like Bob Barker... Harrison Ford is also a pimp.)
The board can bounce your chip into a sexy sexy +1 bin.... or it can slide it down into the nasty bin o' failure. Essentially, you still get to decide how you want to synth, but you can't as easily predict the outcome. Or can you? Let's start at the beginning.
The Elements
Contrary to popular belief, every crystal (with the exception of Dark crystals) have -two- (not one) HQ elements.
Yarly Cookie Monster... Yarly...
If you didn't know this though, don't beat yourself up about it. You'd have to have searched practically every crafting related post from every FF site to have found this (and probably know a little Japanese). Here's how it works. Each crystal is "weak" to the element that the crystal's element is weak to, and to the element of the preceding day of the week. Therefore:
(FEW WILL D)IE

Fire's HQ elements are Water and Darkness
Earth's HQ elements are Wind and Fire
Water's HQ elements are Lightning and Earth
Wind's HQ elements are Ice and Water
Ice's HQ elements are Fire and Wind
Lightning's HQ elements are Earth and Ice
Light's HQ elements are Darkness and Lightning
Darkness (like the cheese) stands alone, with only one HQ element (Light of course).
In addition to this there are, of course, other factors such as the probability to obtain skill ups, the probability to achieve a successful synth, the probability to crit fail, etc. All of these factors are effected by the elements. Darkness, for example, generates a high probability of losing materials on a failed synth. A crystal's own element tends to promote a successful synth. The crystal's opposing element tends to result in skill ups. Et. Essentailly, every element acts upon every other element in one of these categories to a different degree. The beauty of the two HQ elements is that they are equally effective at generating HQ synths. I'll explain why further on.
Now, before you go off half-cocked and try to test this and post stuff like "omgz0rz I tried to craft on Firesday with an Earth crystal and I had the same HQ rate u r liar l o l" don't bother yet, because you don't have enough information. This is just the first part of the puzzle that's needed to understand the rest.
Also, right now most of you probably don't realize that its not only possible to craft with more than one element acting on your crystal, but its actually -impossible- to craft WITHOUT multiple elements acting on your crystal. Read on to understand why (and because the knowledge of the elements alone is useless).
The Moon, Time, and the Seasons
The crafting system's design is diabolical in that, despite its inherent simplicity, its extremely difficult for different crafters to compare different results. This is because different synths and different crystals yielf entirely different results based on the environment. This in turn leads to people swearing that "omg full moon is the tits for HQ baby gotta try full moon" while other people are then like "no fuckin way dude I just blew all my syntyh mats and got all of two things... Jack and shit." Flame wars ensue, no one learns everything and even the most basic information gets garbled. Speaking of which
ITS 1/16 GODDAMNIT! NOT 1/10... 1 OUT OF 16 FOR A TIER 1 SYNTH! JEEEEBUS! SRSLY! WTF! YOU SHOULD KNOW THIS. @_@
Sorry... had to get that outta my system. Ok. In order to understand the pertinence of the two HQ elements for crystal. You must also understand that
every moon phase has a distinct element
This is why a lot of people have a great deal of difficulty when it comes to crafting. Most people realize pretty early on though that the hype about full moon/new moon etc i bullshit and that there's more at play.
Yeah that generally sums up most people's crafting experiences.
Have you ever noticed that the Vana d'Iel week lasts 8 days but the moon phases last 7 or 14 days? If you don't believe me you can use a good online FFXI timer (but be careful because some of them have the phases a little off, either as an error or so as to disguise the week:moon connection). I recommend this one:
lokyst's FFXI Crafting Timer
.
You may now ask what relevance this has. Another thing that most people don't realize is that the Japanese moon phases progression is slightly different. The moon phases have different names and they last for different periods. In the Japanese system, every moon phase last 7 days. When I first learned the relevance of the moon phases, I honestly felt a little cheated by this because its actually a lot easier to understand the elements of the moon phases if you already know that each phase is only 7 days. What does this mean though?
Imagine now that the 14 day moon phases (Waxing/Waning Gibbous/Crescent) are in actuality consisting of two distinct elemental periods of seven game days each. From now on, don't think of the moon phase by name without recognizing that it has an element. Also, don't pretend that each phase has a distinct element, the element changes slowly over time, based upon the days of the week. How? I'll explain.
Its rather evil because the hint is built right into the system. If the week lasts eight days, and the elemental moon phase lasts seven days, what can we infer? The answer is that one of the elements is excluded from the moon phase. Now, recall from earlier that I mentioned that it is indeed IMPOSSIBLE to synth with only one element acting on your crystal? That's because
the moon's element is the same as the element of the day that is excluded from the 7day elemental moon phase.
Just a friendly heads up, this stuff is gonna be pretty hard to visualize so I highly recommend making a quick spreadsheet to keep track of this data. Once you understand the system, its very easy to eyeball it off of the FFXI timer but while learning and analyzing the factors at play a program like Excel is your best friend in the war against mmo poverty. Here's a quick example I whipped up in 5 minutes to illustrate how the days effect the moon:
You can see with the help of the lines I drew that each 7 day phase is "bracketed" by a specific day. That is the day that it shares an element with. Also, please take not that when it comes to the moon phases, the elemental cycle is reveresed: Dark -> Light -> Thunder -> Ice -> Wind -> Water -> Earth Fire. This factor helps contribute to a "random" appearance.
I recommend you generate a spreadsheet that encompasses two complete moon cycles. This is known as a Lunar Month. You will observe that every lunar month, the cycle repeats itself (much like the days of the week repeat themselves). Essentially, during the Lunar Month, each elemental phase will alternate between two elements. Have you ever had a kick-ass synth session during one moon phase than an asstastic one on the same moon phase at a later time? This is the likely culprit.
Time of day and the Vana d'Iel season also contribute to your HQ rate, but I'm not going to say how because these can be determined by expanding the day:moon model. Essentially, like I said before, there are different wheels going in different directions at different speeds and you want to line up the HQ factors for your crystal.
Day is easy enough to analyze because it happens every single hour and you can probably guess the impact that the different times of day have if you've spent ANY time crafting at all. Seasons I'll give you a little hint. There are 4 seasons (duh) and each season impacts different elements in different ways. What does this mean? It means that the overall crafting cycle takes A HELLA LONG TIME to run one complete cycle. Do in game years factor in? Possibly but you'll have to analyze the connections and determine this yourself. I estimate that the overall crafting system has undergone relatively few complete cycles since the servers first went online.
How to Apply This Knowledge
Are you serious? I just explained it all in detail >.> Ughhh fine.
Ok so say you wanna HQ an earth crystal synth. Basically you wanna synth -at the right times of the day- during Windsday/Firemoon, Firesday/Windmoon, etc. Just takes a little practice and study to find the right times. That's basically it. Knowing about the moon element is pretty much the biggest step you can take in understanding the system.
Other Random Tidbits|
i) Just stop whining and face the stupid HQ direction. Like... srsly... wtf.... it takes literally less than half a second to turn your dumb toon to the bloody direction. Even if you though it didn't do anything does it hurt? No. Just do it. After seeing the week/moon connection you should now understand that practically -everything- factors in in some degree.
ii) Critical failure is a good thing. Now you're saying "WTF ARE YOU SMOKING?!" Well several years ago SE felt that too many people were beginnng to understand the crafting system. To remedy this, they modified the system such that as your HQ potential increases, so too does you potential for critical failure. What does this mean? 1) It means that it is 100% impossible to -guarantee- HQ no matter how well you understand the system. 2)
If you get a critical failure, it probably means that you just hit a HQ window so synth again immediately
and continue to synth until you stop breaking or you stop HQing (the HQ windows tend to bundle up next to each other, especially as the synth difficulty decreases).
iii) Use elemental resistance. In addition to the update I just mentioned regarding critical failure, SE made it possible for us crafters to protect ourselves against such failures. By stacking your resistance to the element that the crystal you are using is weak to, you help to protect against material loss in the event of a failed synth. Ie. if you are using an Earth crystal, use Baraera and wind resist gear. This does NOT guarantee you won't lose mats, it just increases your odds off saving materials in the event of a critical failure. There are different tiers of resistance you must reach in order to protect against different Crit Fails (ie. CF1, CF2, CF3 just like HQ1, HQ2, HQ3). I can't remember them because my toon's never not been able to reach the highest tier but I think it's sumthing like 30 -> 50 -> 70. Iunno I forget but the point is, protect yourself.
iv) The way you load materials into your crystal is important when it comes to what you lose on a break
v) When studying the crafting system, use synths that have multi-tiered HQs. HQing at a higher tier is an indication that you just hit a HQ window time slot that would yield an HQ for a higher lvl synth.
Questions to Ask Yourself and Where You Should Go From Here
i) Which elements respond to which seasons?
ii) What is the largest wheel on the Plinko board? Season? Year? How do they interact with the day/moon?
iii) What is the smallest tier on the Plinko board? In game minute? Every 10 minutes? Hour? How do they interact with the day?
iv) What effect does the time of day (dawn, dusk, etc.) have?
v) Why are there so many spelling errors in this? Did Avar even proof read it? A: No/Barely.
vi) Where are all the pictures? I was promised pictures and I haven't seen one for a while.
That's where the pictures have gone.... that's where... -.-
Anywho, the next steps to take in order to make use of this information are to create a pretty spreadsheet, make some models, theorize, hypothesize, figure out which models make the most sense, then test the models. It doesn't take long to figure the rest out. Once you do though, its much MUCH easier to get the synths you want. Keep in mind when studying the models that you should do bulk synths in order to locate HQ hotspots. This is true even once you have a pretty good idea where the hotspots are. Why? Because the tiers for HQ are as follows: 1/2, 1/4, 1/16, 1/64. This doesn't mean that every 16th window will yield a T1 HQ.
Allow me to illustrate. Say for example that there were 1440 different windows in a game day. This doesn't mean that the HQ windows within that spread would be evenly spaced. HQ windows clump together. Once you know where the hotspots are, you can easily achieve extremely high HQ rates. I'm talking 14/16 on T1 synths and I'm not exaggerating. I'm talkin reaaaalllly good T0 synth rates... For example:
1/4
1/6
Doing the mental work it takes to master the system pays off.
Why the HELL Would I Tell You All This?!
i) The game's in its twilight. Its got a lot of life left in it and I'll be playing it for a long time yet but I feel the economy has settled down a hell of a lot.
ii) Synergy. There are more ways to skin a cat now and its easier than ever to make money.
iii) I've got everything I want/need with gil to spare.
iv) I haven't given you all the answers, only the tools you need to learn the answers for yourselves and the very important hints/knowledge that is required to find them.
v) I really love crafting and its always made me sad that I've only ever had like... iunno... 2 or 3 people I could share crafting information with. I like the idea of more people being better at crafting. lol also this is the first time the idea of me sharing our knowledge was ok with my very good crafting friend partner dude.
vi) This takes a lot of work and requires dedication. Half the time I prefer sticking to lower level synths because they're good profit if you correctly analyze the economy and they don't require me to wake up at 3am so I can synth during the stupid HQ windows. Despite what you may think, this is the non-lazy way of synthing because it entails significant mental exercise.
vii) Bob Barker is a pimp.
There's obviously a lot of information here so if I realize I forgot anything I'll edit. Feel free to ask questions or to PM me. I understand that this can be a little confusing for some people as I've taught a few people about it before, just never en masse like this.
GL HF
Edit: Basic tips: Use /blockaid when you synth. Don't synth on the ferry/airship.
This post has been edited by Avarghaladion: 31 August 2010 - 12:28 PM